our dream home in Thailand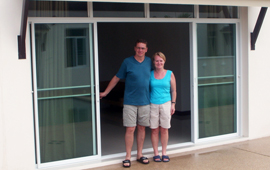 We bought our dream home in Thailand from project images and various drawings at a time when there was only a bare field with gravel. It has been exciting to follow the construction from the beginning, and to where it is now. We have not been disappointed.
We were among the first to move in
We were among the first to move in, and subsequently Jysk Development continued developing of our house, so we now have a house that fulfills all our wishes.
It was our plan to use the house as a base, so we could travel and experience the East. The plan is still there, but it was postponed a little, because we like it too much here, and the rest of the East will have to wait a little longer.
You cannot copy location
There are multiple copies of the construction in the area. You can always make houses luxurious but you cannot copy location. We do not need to start our motorbike to get to the beach. The location is perfect with only 400 meters to the beach, where many restaurants, shops and Thai massage is waiting for us.
We like to be here during the high season, when there is lots of activity but we also enjoy being here when it is low season, where everything is calm and Sam Roi Yot has its own low pulse. You never get bored here. If you get tired of lying by the pool or swim in the sea, there are many excellent excursion which can be visited by bicycle or motorbike.
Lots of experiences
Take a trip to the national park, and climb 725 meters up to the Khao Dang vantage point and enjoy the beautiful view – it's worth the trouble. Or go the opposite direction along the beach into Pak Nam Pran, over the bridge and up to "The Crocodile Viewpoint", enjoy the view and see how Pranburi River meanders in the landscape.
Drive to Pranburi Forest Park and walk the 1 km. long wooden bridge in the large mangrove forest. Or try some of the many other experiences in the area. There are plenty to choose from.
At a resort with so many houses and many different people, it is inevitable that problems and conflicts happen. We had problems with our house, large and small, but the problems have never been greater than they could be solved and the management is always open for a good dialogue, so that problems are resolved to the satisfaction of both parties.
We are very pleased with our investment in the project and can only give it our highest recommendation if you are considering buying property in Thailand.
Vibeke & Claus Carstensen
B11/B12
If you have questions or need further information, feel free to contact us for a non-committal talk or showing.