we bought the house without seeing it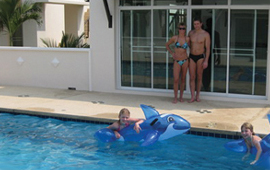 "We bought the house without seeing it because we had confidence in the holiday home project! And we must admit we have not been scammed – in fact, the house surpassed all our expectations!
In addition, the enviroment is beyond belief and Talay Tara is even a fully serviced resort! I am working as an independent business man and my head is always occupied with business issues – even during my holidays. But when we are in Talay Tara, I forget it all and my only problem is – my holidays ends too fast!"
Annette and Lars, house A13
If you have questions or need further information, feel free to contact us for a non-committal talk or showing.