amazing…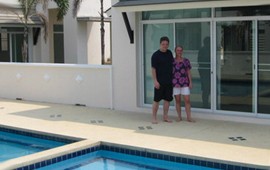 …is the first word that comes to your mind when you arrive in Talay Tara. We have become completely addicted to our holiday home! It is the place you just don´t want to leave!
The house is bright, spacious and uncluttered – the view and the silence is absolutely unique; you live right in the heart of untouched nature. We have never regretted investing in a holiday home in Talay Tara. This is where we go, when body and soul is in need for a repair!"
Bo and Charlotte, house D15/16
If you have questions or need further information, feel free to contact us for a non-committal talk or showing.